Auto Care for Used Toyotas in Manhattan Beach CA
Many people buy Toyota models because with ToyotaCare, they don't have to worry about a thing when it comes to routine maintenance. Did you know that you can get the same worry-free maintenance on a used Toyota model at Manhattan Beach Toyota? We can provide Auto Care for used Toyotas in Manhattan Beach, CA. What's more, we can even provide this service to other used models in our inventory outside of Toyota.
In fact, many of the used models that we have in inventory come with 1 year or 15,000 miles of maintenance and 24-hour roadside assistance at no extra cost to you.* This is a wonderful way to buy used and get real peace of mind. Not only are you insulated from the rising cost of vehicle maintenance, but with the Manhattan Beach Toyota service department, you know you have the most skilled technicians working on your car and ensuring that everything is perfect. Ask us how we can extend your pre-paid maintenance plan too!
Maintenance Made Convenient.Affordable.Friendly.Smart.
Service made convenient
Included with the program is a convenient package that fits right in your glovebox. You can present the enclosed certificate to any dealership that participates in this program to get the maintenance that you need. With the certificate, any Toyota-trained technician will know what's covered under your plan.
Friendly timed reminders
Forgetting about vehicle maintenance is easy, but with our friendly timed reminders, you won't have to worry about being forgetful when it comes to your Toyota Auto Care vehicle. Based on driving habits, we will reach out to you about 30 days before the date of your estimated service.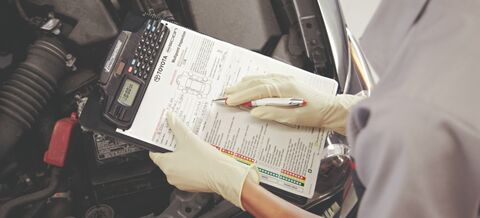 Smart service history
Every service visit under the plan will be carefully tracked by our computers, and at the end of the plan, you will receive a full write up of all the maintenance performed. Not only is this just a good thing to have for your own records, but having in-depth service records will also increase the resale value of your vehicle.
---
* Whichever comes first. Coverage not included on Lexus models, German vehicles, Exotic European vehicles and diesel fuel vehicles.
Instagram
[instagram-feed]