What Manhattan Beach Toyota is All About
Darrell Sperber, General Manager, was an advocate of the

City. Established

in 2006,

Manhattan Beach Toyota

supports local community events and

organizations in

the

South Bay year-round.




T

he City of Manhattan Beach, beautifully located alongside the Pacific Ocean's cresting waves and under California's brilliant sun, is home to many thriving establishments. Among the successful businesses in this ocean-side, four-square mile city is Manhattan Beach Toyota | Scion on Sepulveda Boulevard.

Established in 2006 by Darrell Sperber, the dealership has excelled in customer satisfaction and sales excellence.

The team at Manhattan Beach Toyota | Scion takes pride and pleasure in devoting time and effort to guests' fulfillment before they leave the dealership in their new car or exit the Service drive. The Sales Department is made up of friendly individuals, who are knowledgeable about the Toyota product and always go out of their way for a customer.

Manhattan Beach Toyota | Scion provides shoppers with a huge selection of new Toyotas and Scions. Used vehicles are specially cultivated through auto auctions and vehicle trade-ins. One-owner, low-mileage used vehicles with rare features, are common place in

Manhattan Beach Toyota | Scion's Used Car Department.
Finding what you're looking for


The Internet | Fleet Department also helps find the rare new or used
vehicle customers seek by receiving inventory from other dealerships, searching auction houses and specially building new Toyotas.

And Service Department customers are well-taken care of here! Careful records of service visits are kept and maintenance recommendations are made based on the findings of the dealership's team of Certified Toyota technicians. Customers also have dedicated Service Advisors that are available to answer questions. The Parts Department offers a boutique of accessories and Toyota  Genuine Parts. Just ask the Parts Department staff to locate a part
!
South Bay community outreach
Because Manhattan Beach Toyota | Scion is proud to be in Manhattan Beach and is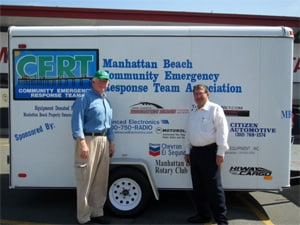 truly
dedicated to causes that benefit the community of the South Bay, the dealership offers full participation and support to local organizations and community causes, such as, Earth Day at Polliwog Park and the Community Emergency Response Team (CERT). Manhattan Beach Toyota | Scion is a member of the City's Chamber of Commerce, and four other local Chambers.  
When the City of Manhattan Beach turned 100, the dealership was proud to participate in many of the Centennial celebrations, like the parade through the City on May 19, 2012. Darrell Sperber, Founder of Manhattan Beach Toyota | Scion, drove his 1932 Ford pick-up on the Centennial Parade route in representation of the dealership. Darrell was dedicated to supporting local causes, such as education and police and fire personnel. To read more about the dealership's community involvement, visit the Community page
on ManhattanBeachToyota.com. 
The dealership is here for you


Manhattan Beach Toyota | Scion takes care of customers' cars from Day 1. Whether it's deciding on the perfect vehicle, financing the vehicle, or conducting regular maintenance on it, Manhattan Beach Toyota | Scion is here the entire way. The team is dedicated to serving customers as it is an honor to be part of their lives.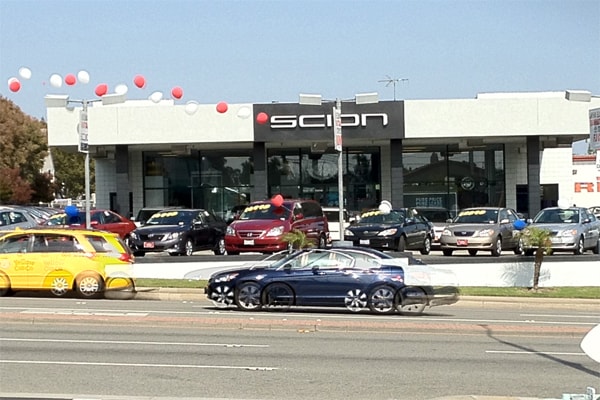 The Scion showroom at Manhattan Beach Toyota | Scion is across the street from
Just Food For Dogs on Sepulveda Boulevard in Manhattan Beach.